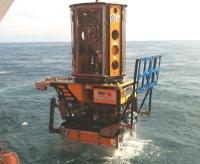 Bibby Offshore continues its global success with the announcement that its Singapore division, Bibby Offshore Singapore (BOS), has secured a contract with subsea service provider Seascape.
Singaporean company Seascape, a subsidiary of Mermaid Subsea Services, has appointed BOS to provide ROV services for its DP2 dive support vessel (DSV), the Windermere.
The 365 day contract, which commenced on 5 January 2015, involved the vessel being mobilised with a Bibby Offshore owned ATOM work class ROV.
Designed with ease of operation and maintenance in mind, the 100HP, 3000m-rated, SMD ultra-compact work class ROV is suitable for drill support, survey and construction duties, and can be mobilised on vessels and rigs with limited deck space.