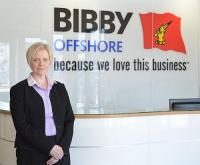 Bibby Offshore, subsea services provider to the oil and gas industry, has appointed Dorothy Shepherd as general manager, renewables.
Mrs Shepherd joins Bibby Offshore with more than 15 years' experience in the energy industry. Having spent a significant time at The Crown Estate – a key player in supporting the delivery of energy supply for the UK – Shepherd brings with her a wealth of offshore renewables knowledge, including the delivery of new developments and supporting infrastructure.
In her new role, Shepherd will be instrumental in the delivery of new business in the renewables sector. The position includes supporting existing business development and tendering efforts, while collaborating with Bibby Offshore's sister companies Bibby Marine Services, which offer SOV and Walk to Work vessels and Bibby HydroMap, which offer a range of seabed survey services.
This appointment follows the formation of Bibby Offshore's new business optimisation team, led by Graeme Wood, as part of the company's strategic growth strategy. The primary purpose of the team is to facilitate a number of key business initiatives, accelerating the business through the next level of growth.
Commenting on her new role, Shepherd says, "I am thrilled to be joining Bibby Offshore and to be working with a company which has such a strong track record. I am confident my knowledge will help to identify new opportunities in the renewables market and deliver the strategic results required for long-term success."
Graeme Wood, business optimisation director at Bibby Offshore, says, "Renewables has been a key element of Bibby Offshore's strategic growth plan for a number of years, and Mrs Shepherd's appointment demonstrates the importance that we attribute to this market as a potential source of revenue in the future. While this market has a longer tendering cycle than seen in the oil and gas sector, Dorothy's knowledge and experience will help to ensure we continue to establish the most effective market opportunities and remain resilient in a competitive marketplace."