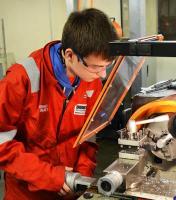 Bibby Offshore has won the Investment in People award at the 2014 Oil & Gas UK Awards. The winners were announced on Thursday 6 November 2014 at the Aberdeen Exhibition and Conference Centre.
The Investment in People Award recognises Bibby Offshore's commitment to staff and the development of its people. It acknowledges the outstanding steps being taken to provide staff with the skills they need to perform at the highest level and truly realise their talent.
Bibby Offshore's Competency and Training Manager Claire Duncan, said: "The award is excellent recognition of the hard work undertaken by the Competency and Training team, the HR team and the company as a whole. It shows our people that what they do really does count.
"People development contributes significantly towards achieving the company's key business objectives and plays a huge role in defining company character. One of the company's core values is to 'realise the talent of our people'. This involves supporting personal and professional development for all our team, which in return creates positive business results."