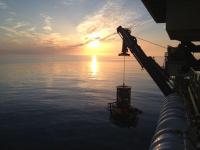 Bibby Remote Intervention Limited (BRIL), part of Aberdeen-based subsea installation contractor, Bibby Offshore, has further expanded its fleet by signing a charter agreement for an IRM (Inspection Repair and Maintenance) light construction vessel and adding an additional two ROVs (Remote Operating Vehicles) to its operations.
The charter agreement with Olympic Shipping is for a newly built MT6021 vessel for a three year period, with options to extend for an additional two years. The vessel will be mobilised with ROV's from BRIL and is expected to arrive in Aberdeen in early April next year.
Mike Arnold, Bibby Offshore's chief operating officer for the western hemisphere, said: "The business is now in control of a fleet of nine vessels and 15 ROVs. These new additions demonstrate our ongoing commitment to develop our current capabilities and expand our offering of flexible services to clients on a worldwide basis, and this is a reflection of our significant growth over the past 10 years.