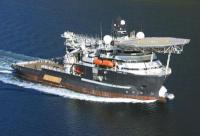 Bibby Offshore's Houston-based division, Bibby Subsea, welcomes the Olympic Ares, a multi-functional subsea construction support vessel (CSV) which is due to arrive in the port of Galveston on 16 December 2014.
The 115 metre Olympic Ares is an extremely capable vessel, with specifications including a 250 tonne heave compensated crane for subsea use to 3,000 meter water depth and 1300 square meter of clear back deck space.
Ahead of arrival in Galveston, the Olympic Ares was recently installed with two SMD Quantum MkIII 250hp 3,000 meter rated Work Class ROVs. Each of these high specification Quantum Work Class ROV systems includes SMD's Extended Tophat Tether Management System (TMS), telescopic A-Frame, umbilical winch, deck pack and fully integrated control cabin.
Andrew Duncan, President and Managing Director of Bibby Subsea, said: "Taking delivery of the Olympic Ares further expands our capacity for our oil and gas clients in the Gulf of Mexico, and allows us to continue to deliver comprehensive CSV support in this region.