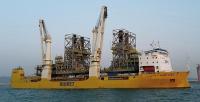 BigLift Shipping has announced ordering a third Happy S-type vessel. The new build vessel will be identical to BigLift's Happy Star and will be built by Ouhua Shipbuilding in Zhoushan, China. She will be named Happy Sun and is expected to be delivered in the first quarter of 2018.
Happy Sun will feature two 900-tonne Huisman Heavy Lift Mast Cranes which will make her excellently geared for the handling of heavy cargoes all over the world. With her high crane pedestals and lengthened jib she will have a lifting height only matched by her sister Happy Star in the worldwide fleet of heavy lift vessels.
Happy Sun will be 156 metres long and will have a 29 m deck with 18,374 tonne deadweight. Her length and the forward position of her superstructure will offer a single, large cargo hold and a wide, open deck area. She will be fitted with pontoon type hatch covers and a large poop deck which will make the vessel's full deck area available for cargo stowage.
Happy Sun's tween deck will be adjustable in height and she will be allowed to sail with open weather deck hatches at a draught of up to 7.5 m. Furthermore, she will have Finnish/Swedish 1A Ice Class notation. Her service speed will be 15 kn.
With Happy Sun, BigLift's fleet will comprise 16 state-of-the art heavy lift vessels with lifting capacities up to 1,800 tonnes.