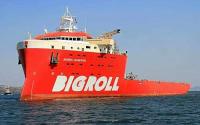 The first MC Class vessel for BigRoll Shipping was handed over by Cosco Dalian Shipyard Co. Ltd to her owner. The vessel will immediately enter into a multi-year contract with Yamgaz, the consortium of Technip, JGC Corporation and Chiyoda for module transportation as part of the Yamal LNG project.
The Yamal project is a liquefied natural gas (LNG) plant positioned deep in the Russian Arctic. The region is completely ice-bound for between seven and nine months each year, and where the sun fails to rise above the horizon for up to three months at a time. The vessel has the ability to operate in temperatures as low as -55° C, while the large unobstructed deck and the high service speed make the MC Class a perfect fit for the Yamal project.
BigRoll Shipping is building a further three state-of-the-art MC-Class Module Carriers: BigRoll Bering, BigRoll Baffin and BigRoll Beaufort. The Finnish Swedish 1A Ice Class MC Class vessels are specifically designed for the marine transportation of major modules and equipment for large energy projects both on and offshore, to some of the most remote and inaccessible areas on the planet.