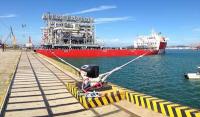 Maritime ropes supplier, Lankhorst Ropes, has supplied Dutch onshore and offshore heavy marine transportation solutions provider, BigRoll Shipping, with Lanko®force and Euroflex mooring ropes. The ropes will be used on BigRoll's MC Class vessels, specifically designed to deliver modules and equipment for large projects: BigRoll Bering, BigRoll Barentsz, BigRoll Baffin and the BigRoll Beaufort. The latter two will come into service in late 2016.
"BigRoll's MC Class vessels are specifically designed for the marine transportation of major modules and equipment for large energy projects to some of the most remote and inaccessible areas on the planet, such as the Arctic region. The vessels have Finnish Swedish 1A Ice Class and as well as a very high ballast capacity in order to reduce loading and discharge times, thereby also increasing safety levels during these operations. Lankhorst's Lanko®force provides the qualities needed to perform with both extremely heavy loads and challenging environmental conditions," says a spokesman for BigRoll Shipping.
Lankhorst Ropes' commercial director – maritime, Hans-Pieter Baaij notes, "Utilising DSM's Dyneema® SK78 fibers, Lanko®force's 12 strand braided design sets the benchmark for HMPE rope performance in mooring, towing, salvage
and lifting. The yarn has a maximum strength rating of 35 cn/dtex compared with other HMPE yarns offering up to 30 cn/dtex, producing a stronger rope and making Lanko®force the ideal mooring rope for heavy marine transportation".
Lanko®force is well-proven in maritime applications demanding high strength and provides an excellent alternative to heavy and lumbersome steel wire ropes where manual handling of the rope is required.