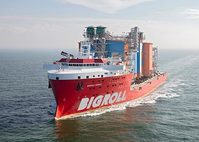 BigRoll will continue its services as part of Roll Group. With the merger of the BigRoll organization, Roll Group will expand their state of the art fleet with of two module carriers in combination with the five existing multifunctional heavy lift, semi-submersible Ro-Ro vessels.
The combination of BigRoll and RollDock allows for unlimited flexibility and enables Roll Group to provide the best possible Ro-Ro solution to our clients. Roll Group can benefit from the many years of engineering and project execution experience of RollDock and BigRoll at sea and Roll-Lift on land. Roll Group can offer full scope services to integrate engineered land and sea solutions, eliminating interface challenges for our clients.
The MC-class vessels Bigroll Bering and Bigroll Beaufort are custom-built for the transportation of the world's most extreme modules. The five RollDock vessels are flexible, multifunctional semi-submersible vessels equipped with a Ro-Ro ramp capable of carrying up to 4,000 metric tonnes (mt) and two port-side mounted cranes each capable of lifting 350 mt each. Within each category, these vessels are completely interchangeable, offering high-quality engineered solutions and an increased peace of mind to our clients.