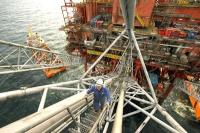 Following a successful relationship in the Danish sector, Bilfinger Salamis UK and Semco Maritime have responded to calls for supply chain collaboration in the UKCS.
The two companies have operated a successful collaboration in Denmark since 2008, bringing together complementary skills and competence to support clients such as Maersk, DONG and Hess in fabric maintenance, NORM management, decommissioning and inspection. The collaboration has delivered streamlined supply chain management, reduced interfaces and successfully exported proven services from the UKCS to the Danish sector.
The Danish partnership has worked so successfully that both organisations have now sought to extend their collaboration to the UKCS, where Semco Maritime is now able to provide engineering, maintenance and modification in support of Bilfinger.