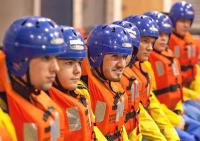 A recent report found that the energy industry will need 12,000 new entrants over the next five years. The report by professional services firm EY, for Oil & Gas UK OPITO and the Department for Business, Innovation & Skills, found that the industry requires efforts to build a sustainable pool of talent for the future.
Two of the north-east's leading training providers have come together to offer a package designed to give those looking to start in their offshore career a step onto the ladder in key offshore trades.
The Bilfinger Salamis Skills Centre, energy trades competency and training specialists, and oil and gas safety training experts Survivex, have launched the Offshore Entrant Package. Following an eight-day course in Aberdeen, delegates gain survival certificates plus an industry-recognised trade qualification, for under £1,700.