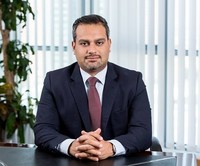 Bilfinger, engineering and industrial services provider, has appointed Ali Vezvaei as Executive President for the Middle East operations. He oversees the group's engineering and operating companies in the region, focusing on oil & gas and petrochemical sectors, energy utilities and water, as well as biopharma industries.
Vezvaei joins Bilfinger bringing his extensive management experience in the Middle East. As President & CEO for Middle East and North Africa at Linde Engineering, he was responsible for business and projects in the region. At Siemens Energy Oil & Gas, he led projects and activities across the MENA region. From March 2017 until his appointment as EP, Vezvaei served as the global Vice President of Bilfinger's Engineering & Technologies division, based in Germany.
"Ali Vezvaei previously played a key role at both Linde and Siemens in moving business in the Middle East forward. I am very happy that, in future, he will be contributing his industry expertise in the region to the expansion of our business," says Tom Blades, the Chairman and CEO of Bilfinger SE.
"Bilfinger has a long standing reputation as a world-class engineering and industrial services company, I am honoured and excited to be a part of its management team; and more so looking at the opportunities ahead in the dynamic and evolving Middle East region," says Ali Vezvaei.