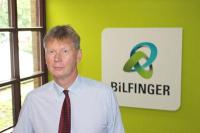 Aberdeen-headquartered services contractor Bilfinger Salamis UK has strengthened its executive management team with the appointment of Mike Henderson as Commercial and Business Development Director.
As well as leading the commercial and business development functions within the business, Mr Henderson will play a key strategic role in the development of key service and products, delivering cost reduction and efficiency improvements to clients.
Mr Henderson previously worked with BIS Salamis from 1983 to 1991, initially as a Project Manager, rising to Operations Manager, with responsibility for insulation, architectural and fire proofing services.
He was then appointed Project Services Manager at APG/Salamis' joint venture, where he was responsble for major Maintenance, Modifications, and Services (MMS) contracts.