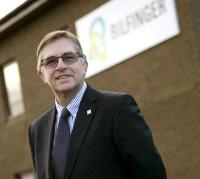 Multi-discipline support services contractor Bilfinger has appointed Graham Hayward as Managing Director to lead its offshore oil and gas business, headquartered in Aberdeen.
Mr Hayward will lead Bilfinger Salamis UK as the Bilfinger group develops its newly formed Oil and Gas division alongside sister upstream business Bilfinger Industrier in Norway. A separate downstream business, Bilfinger Industrial Services, will be headquartered in Runcorn.
As of January 1, 2014, Bilfinger's operational management will be conducted by 14 divisions. The divisions report directly to the Executive Board. Bilfinger Salamis UK remains in the Industrial business segment, which has been divided into six divisions with a combined output volume of €3.6 billion: Oil and Gas; Industrial Maintenance; Insulation; Scaffolding and Painting; Industrial Fabrication and Installation; Engineering; Automation and Control; and Support Services.