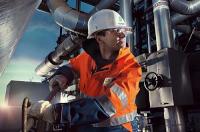 Bilfinger Salamis UK has been awarded a contract for provision of services in the preparation and installation of Maersk Oil North Sea's new gas production field, Culzean, creating up to 300 jobs.
The order is for fabric maintenance scopes during the preparation and installation of the platform, including all offshore works associated with scaffolding, rope access, NDT services, insulation, blasting, coating, cleaning and similar construction support-related trades.
The Culzean field, located in the central North Sea, is expected to produce enough gas to meet 5% of total UK demand at peak production in 2020/21.
"In a competitive market, we are delighted that Maersk has chosen Bilfinger for this major project, one of the largest and most exciting North Sea developments in recent years," says Sandy Bonner, Bilfinger Salamis UK managing director.
"This contract award enables us to further build our experience with Maersk, and allows us to continue to demonstrate our commitment to delivering safe and efficient operations on what is a highly specialised project."
Bilfinger currently provides inspection, access, specialist cleaning and shutdown support services on all of Maersk Oil's existing UK upstream assets.
Production from the natural gas field is expected to commence in 2019. A central processing platform, a wellhead platform and a living quarter platform for the field are being constructed at a Singapore fabrication yard, and Bilfinger will provide a small management team of hook-up specialists during this crucial onshore preparation phase, ready for sail away and installation in the North Sea in 2018.
Offshore work will then be carried out from the UK, and Bilfinger will deploy up to 300 people for the 8-9 months it will take to prepare Culzean for expected production.
Scaffolding and specialist rope access scopes alone are expected to exceed 150,000 working hours offshore.
"This award is of significant strategic importance to Bilfinger. There are fewer major hook-up projects in the North Sea than in previous years, but the Culzean contract ensures further recruitment and growth for our North Sea business in the years ahead," adds Bonner.