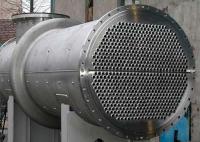 Cortec's EcoClean® Biodegradable Scale and Rust Remover is now a USDA Certified Biobased Product. As such, it is third party certified to contain 100% USDA certified biobased content. It also exceeds minimum USDA certified biobased content requirements for metal cleaners and corrosion removers qualified for federal purchasing under the USDA BioPreferred® Program.
Created in 2002 and reauthorised and expanded in 2014, the USDA BioPreferred® Program encourages the purchase and use of biobased products made from renewable resources. The USDA BioPreferred® Program has identified 97 categories of products required to have a minimum biobased content when purchased by federal agencies and contractors. The program also carries a voluntary labeling initiative that helps consumers identify biobased products more easily through the use of the USDA Certified Biobased Product label, which requires third-party verification of the product's biobased content. EcoClean®
Biodegradable Scale and Rust Remover now meets requirements for both aspects of the USDA BioPreferred® Program.
In addition to its biobased qualifications, EcoClean® Biodegradable Scale Remover is effective and easy to use. It is the fastest acting product on the market for dissolving heavy scale, corrosion, and naturally occurring oxides off metals. This is important for improving flow in scale-obstructed water or drainage pipes and improving heat-transfer efficiency on heat-exchanger equipment by creating clean surfaces. Powerful corrosion inhibitors contained in the scale remover also protect treated metals from flash rust.
EcoClean® Scale Remover is safe to use with multiple metals, including iron, carbon steel, stainless steel, copper, aluminium, magnesium and various alloys.
EcoClean® Biodegradable Scale Remover can be easily applied in a water-soluble pouch form that will dissolve and release the non-toxic scale remover upon entry into the water. This is particularly convenient for circulating systems, as in many heat-exchanger or pipe systems, since the product can be circulated to clean hard-to-reach areas without costly equipment dismantling. EcoClean® also saves on labor by reducing the cost of surface preparation. The product is easily biodegradable and safe and easy to dispose.
By using renewable resources to make a 100% biobased product, Cortec® has created a simple, effective, and environmentally friendly way to preserve the quality of water systems and help them run at greater efficiency. Now as an official USDA Certified Biobased Product, EcoClean® Biodegradable Scale and Rust Remover is an even more attractive choice for all descaling and de-rusting needs.