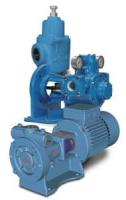 Blackmer® announces the integration of Ebsray® products into its stable of Autogas-equipment solutions for use in the North and South American Autogas/LPG markets. Ebsray was acquired by Blackmer's parent company, PSG®, in May of 2013.
Blackmer is offering the Ebsray RC20 and RC25 Regenerative Turbine Pump models for use in Autogas-handling applications that require long pump life, quiet operation and the ability to handle high differential pressures. In side-by-side tests with competitive models, the Ebsray pumps were proven to be 30% more efficient in terms of energy use.
The Ebsray models RC20 and RC25 regenerative turbine pumps have single-stage, bronze impellers, ductile-iron casings and high-tensile alloy-steel shafts. The pumps produce flows to 24 gpm (90 L/min) at pressures to 145 psi (10 bar) with speeds to 3,600 rpm and a power range to 4 HP (3 kW), and are UL-listed for LPG/Autogas applications.