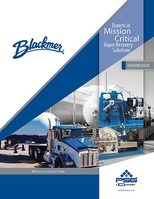 Blackmer®, part of PSG®, a Dover company and provider of positive displacement, regenerative turbine and centrifugal pump, and reciprocating compressor technologies, has announced that that it has released a new brochure describing how its oil-free, reciprocating compressors can cost-effectively improve vapour recovery in the global LPG and NH3 industry.
Across the world where LPG or NH3 is stored, transferred or transported, billions of cubic feet of fugitive emissions are vented or flared into the atmosphere every year. This is not only damaging to the environment, but represents lost business income. However, cost-effective recovery technology is available to improve a company's environmental compliance and bottom line. Thanks to these benefits, the opportunities for vapour-recovery equipment can be found in a wide variety of applications, including liquid terminals and bulk storage facilities, bulk cylinder filling plants and bulk cylinder distributors, auto fuel dispensing, and mobile evacuation.
As the industry specialist in compressor technology for product and vapour recovery, Blackmer oil-free, reciprocating compressors are designed for specific applications in LPG and NH3 gas handling, product transfer and vapour recovery. Unlike conventional compressors that can leak vapour due to inefficient crankcase sealing and containment, the Blackmer patented isolation chamber design and piston seals prevent oil contamination and cylinder blow-by. Specifically, the Blackmer LB Series compressor and Mobile Evacuation Unit are ideal solutions for vapour recovery.
Blackmer LB Series compressors are highly efficient stationary compressors designed to handle a wide range of liquefied gases – propane, butane and anhydrous ammonia. They are well suited for unloading rail cars, pressure vessels, transports and tanks that present poor suction conditions for pumps, where system piping restricts flow and installations require an initial lift to the liquid.
The Blackmer Mobile Evacuation Unit provides liquid evacuation and vapour recovery wherever needed for storage tanks and transports or transferring liquids from tank to tank. Its mobility makes it indispensable for refineries, bulk tank facilities and field service calls. Its mobile design also allows it to deliver cost-effective and profitable recovery of the liquid heel of tanks and vapour recovery.