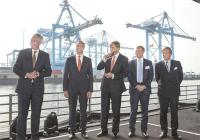 Working for show designers BIND Film, Jurlights were tasked with providing a technical concept for the captivating launch presentation of Maasvlakte II Terminal, Rotterdam on 25 April 2015. On an unprecedented size and scale, the launch ushered in a new era in port operations at APM Terminals with a little help from BlackTrax real-time motion tracking solution from CAST BlackTrax Ltd.
The opening of the world's safest, first fully automated, zero emissions container terminal was attended by The Netherlands' Monarch King Willem-Alexander and 500 senior representatives from the global shipping industry and world governments.
"The only way to accurately track the Lift-Automated Guide Vehicles (AGV) across the 400 by 200-ft area was by using BlackTrax," explains Menno Broere, Creative Director at Jurlights.
In describing theproject workflow, Broere says: "BIND and Jurlights designed the show across sixteen 40-ft shipping containers fitted with 12m wide by 2.5m high LED video screens. The screens were viewed by the audience who were stationed aboard a temporary viewing platform."