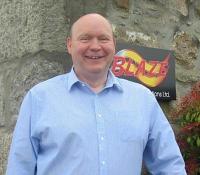 Blaze Manufacturing Solutions, which was established in 2006 to serve the global oil and gas and renewables markets, has appointed Gordon Cook as its new service manager.
Cook will support the growth of the business and help expand the firm's service based revenue stream. As part of his new role, he will manage customer expectations and work with the engineering and design team to offer a complete service, from survey design, manufacturing and commissioning, to installation, service and on-going maintenance.
As part of the onshore commissioning service, Cook will help develop new markets, promote Blaze's bespoke fire control and safety solutions and identify new business opportunities and partners for the firm to work alongside.
Blaze, which is headquartered in Laurencekirk, offers fire safety protection, detection and loss prevention solutions for harsh and challenging environments including offshore production platforms, drill rigs, floating production units, onshore oil fields, terminals, refineries and petrochemical plants. The company's specialist capabilities include project evaluation, detailed design, implementation, commissioning and servicing of the whole fire and safety spectrum.
Cook brings a network of contacts and more than 30 years experience working within the oil and gas industry, and 16 years' within the management of offshore operations specifically.
Cook says, "Although I have been working in the industry for more than 30 years now, this new role will be an exciting new challenge for me. It will heavily involve business development, managing customer expectations and ensuring service delivery, however my experience in the provision of multi-role project teams offshore and onshore with my background in offshore operations will be a significant asset to Blaze's global growth plan."
Managing director of Blaze Manufacturing Solutions, Howard Johnson, adds, "Our customers are very important to us so Blaze required someone who was able to hit the ground running, in terms of having the knowledge and experience to deal with clients in this area. I know that Gordon is highly experienced having worked in the industry for many years and I'm sure he will do a great job at assisting our customers with whatever requirements they may need."