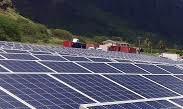 Blue Earth, Inc., an alternative/renewable power generation solutions company, says that CEO Johnny R. Thomas has resigned effective September 1, 2015 as CEO/director of BBLU to become the CEO/director of EnSite Power, Inc. (EnSite), a subsidiary of the Company, which is expected to be spun out to shareholders and taken public. The BBLU Board of Directors has named G. Robert Powell as the CEO/director of Blue Earth effective September 1, 2015.
These personnel changes are being made as part of the strategy to focus BBLU as a power generation company operating BE Combined Heat & Power, BE Solar and BE Generator with the pending YieldCo, E2B Growth, Inc. Mr. Powell has an exceptional background to lead BBLU as a power generation company.
Prior to BBLU, Mr. Powell served as President, North America for SunEdison, Inc., which is the largest global solar provider of technology, project development, financing and asset management of solar projects. He oversaw all activities for the North America region; the largest region in the company. Prior to his North America role he served as SunEdison's President, Asia Capital Markets, he oversaw activities related to the creation of a public emerging market yield vehicle, TerraForm Global.