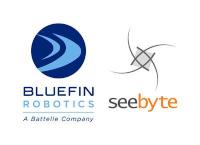 Bluefin Robotics, a provider of Autonomous Underwater Vehicles (AUVs), has acquired SeeByte, Ltd., a leading provider of autonomous platform software that enhances the user experience and the capabilities of underwater sensors, vehicles and systems. SeeByte, headquartered in Edinburgh, Scotland, will operate as a wholly-owned subsidiary of Bluefin.
Terms of the transaction were not disclosed. Bluefin is owned by Battelle, a leading independent science and technology organization committed to solving some of the world's toughest challenges in national security, energy, the environment and healthcare.
The combined companies will offer a complete suite of autonomy products for surface vehicles and underwater vehicles, both remotely-operated and unmanned. Together, Bluefin Robotics and SeeByte will have full life-cycle capability from R&D through design and manufacture to field operations and will operate globally in both defense and commercial markets.