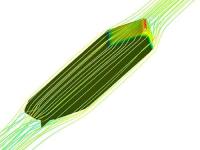 BMT Fluid Mechanics (BMT), a subsidiary of BMT Group Ltd, the international design, engineering and risk management consultancy, has recently completed a comprehensive Computational Fluid Dynamics (CFD) study for an oil major operating offshore Nigeria.
BMT's scope of work included an assessment of the current loading to which the FPSO hull is subjected to, which has enabled the oil major to ensure its mooring systems are fit for purpose. Johnathan Green, Manager for BMT Fluid Mechanics' Numerical Modelling Group explains, "CFD is becoming more commonplace in the oil and gas sector with many customers recognising it to be an effective tool for solving challenges the industry faces in a less conservative and more efficient manner. In this project, we were able to use CFD to more accurately analyse the hydrodynamic forces caused by current and waves and asses the subsequent effect these forces have on the bilge keels of the vessel which are designed to stop the vessel from rolling."
Through the creation of a 3D CAD model and representation of the FPSO below the water line, the team of specialists at BMT were able to run a comprehensive experimental and numerical study of the manoeuvring characteristics. This looked at different parameters of current conditions to help build up a picture of how the forces and motions impact the vessel and how it performs.
Johnathan Green continues, "BMT's extensive experience with shallow water hydrodynamics, manoeuvring simulation, hydrodynamic model testing and Computational Fluid Dynamics (CFD) allowed us to deliver against the customer requirements. The benefit of using CFD in this study is that the customer can use the less conservative loads estimated to help design the mooring systems.
CFD has a number of applications within the oil and gas market. BMT regularly uses CFD for consequence modelling (e.g. hydrocarbon fire & explosion and gas dispersion), flow assurance, and helicopter operations. Whilst the aim of all of our work is to ensure that risks to personnel, asset, and environment are reduced to as low as reasonably practicable (ALARP) and although there may be a focus in today's current economic climate on reducing capital expenditure, BMT strongly believes that optimising design early on in a project can considerably reduce costs by avoiding conservatism."