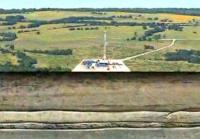 BNK Petroleum Inc. is currently flowing back the Wiggins 11-2H well following its recent hydraulic fracturing treatment. During this flowback, the Wiggins 11-2H had a 48 hour initial production rate of 550 barrels of oil equivalent per day (BOEPD), of which 355 barrels were oil.
Preliminary data indicates that its production rate is similar to other Caney wells drilled by BNK, in particular the Wiggins 12-8H and Barnes 7-2H wells. An artificial lift system was recently run into the well and is currently being optimised.
The Hartgraves 1-5H well has been drilled and casing has been run and cemented in place. The well has approximately 4,900 feet of lateral available for fracture stimulation, which is scheduled to begin next week.