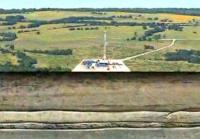 BNK Petroleum's indirect wholly owned subsidiary BNK Petroleum (US) Inc. (BNK US) has obtained a new US$100,000,000 credit facility (new facility) from Morgan Stanley Capital Group Inc. (MSCGI). The initial commitment amount of the new reserve-based facility is US$15,900,000.
The proceeds from the new facility are intended to fund drilling of Caney shale oil wells in the Tishomingo field in Oklahoma. The new facility will bear interest at a per annum rate equal to then three month LIBOR plus an applicable margin ranging from 2% to 7% based on the ratio of outstanding borrowings to present value of proved developed producing reserves discounted at 9% (PDP PV9). The facility provides for interest only payments until the July 2018 maturity date.
Additional commitment amounts will be subject to new reserve evaluations.