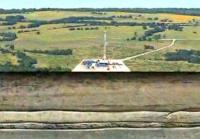 BNK Petroleum Inc. is providing an update on its Tishomingo Field, Caney oil shale operations in Oklahoma as well as its Polish shale gas project.
Oklahoma - Tishomingo Field
BNK's strategy for its 2013 Caney drilling program was to prove the productivity of the Caney formation in our Tishomingo field. The Company's efforts were focused on increasing the oil rate of each consecutive well, reducing drilling time and cost, testing the optimal lateral placement within the formation and optimizing the fracture stimulations. These goals have been successfully achieved.