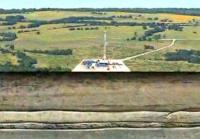 BNK Petroleum Inc. is providing an update on its Polish shale gas project and it's Tishomingo Field, Caney oil shale operations in Oklahoma.
Poland
In Poland, the Company has successfully drilled, cased and cemented its Gapowo B-1 horizontal well with excellent gas readings regularly recorded throughout the lateral. The well successfully drilled the targeted over-pressured, gas charged, organic-rich Lower Silurian and Ordovician shales that were originally encountered in the vertical Gapowo B-1 well. The well has approximately 5,900 feet of lateral available to fracture stimulate.
The Gapowo B-1 well is believed to be the longest horizontally drilled well in Poland.