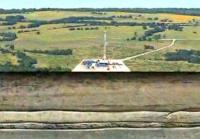 BNK Petroleum Inc. is providing an update on its Tishomingo Field, Caney shale oil operations in Oklahoma.
The Company has been flowing back the Nickel Hill 36-3H and Emery 17-1H wells after fracture stimulating 22 and 12 stages respectively, as previously announced.
Production from the Nickel Hill 36-3H well over the last week averaged about 435 barrels of oil equivalent per day (BOEPD) of which 245 barrels are oil, with the well still cleaning up as the Company restricted the flowback more than normal due to the recent heavy flooding in Oklahoma. The well was drilled in an area of the field that has a more complex localized structure, with the expectation that this would enhance production.
It continues to free-flow without an artificial lift and is exhibiting a stronger mix of gas to oil than other Caney wells in this area. The Company believes that some portion of this higher pressured gas is being channeled from a deeper source through a complex fault and fracture system that defines the northern limb of this localized structure. The Company expects the decline rate to be quite shallow as a result of the increased gas with ultimate recovery in line with our type curve.