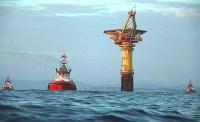 Installing new loading buoys is one of several projects intended to extend Gullfaks' life towards 2040. 2.55 billion barrels of oil from the Gullfaks field have passed through the existing loading buoys since first oil.
Due to come on line in June the towing of the first loading buoy has started. The second old loading buoy will be removed in August, and the new buoy is scheduled to come on line in mid-September.
The two existing loading buoys have been loading oil from Gullfaks since 1986.
"This is an important value enhancement project for the Gullfaks field. Gullfaks needs to have reliable loading systems for crude oil export in the future. The two existing loading systems and loading buoys installed in 1986 and 1987 are approaching the expected design life of 30 years," says Øystein Arvid Håland, asset manager, Development and Production Norway.