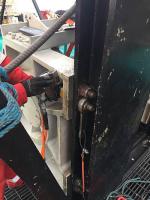 Tools from the warehouse of a growing Great Yarmouth bolting specialist are keeping cranes working on North Sea platforms, giant heavy lift vehicles and projects all over the world. Gee-Force Hydraulics supplies torque and tensioning tools to crane giant Alatas, which maintains ship, offshore and mobile cranes across the globe.
The crane giant chose Gee-Force Hydraulics to supply equipment for its work in Gibraltar on a heavy lift vessel. Its 1,200-tonne capacity crane is suitable for platform topside installation and removal for decommissioning.
Gee-Force's quick turnaround time and reliable service cemented the relationship, Alatas service manager Richard De'Ath, says, "About 80% of our work is in oil & gas and about 50% of that is around Great Yarmouth with our main contracts for crane maintenance. We are very busy and active in the oil and gas sector and are working currently in Malta, Gibraltar, Africa and Europe. Gee-Force always react quickly to requests, which is a huge benefit for us. In our industry it is most important."
"We are a service company and have to react to our clients' needs, which are changing constantly and Gee-Force staff are very very helpful in accommodating our demands. Only this morning we called them for equipment and they have got the kit packed and ready to collect. It should be in Malta within three days," adds De'Ath.
Gee-Force Hydraulics managing director Graeme Cook says, "We opened a bigger base in Great Yarmouth to be close to our clients working offshore. This strategy is working and companies now come to us because we can act quickly. From those relationships, we are sending tools all over the world because people trust our response times."