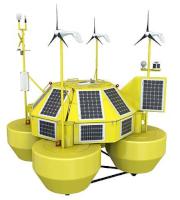 EOLOS, the developer of a competitive and autonomous floating offshore wind measuring system, is celebrating great successes in its first year as a commercial entity. In 2016, the start-up secured a project portfolio of more than EUR 2 million – equivalent to 22% market share – helping to consolidate its market position.
The start-up secured several contracts for its Floating Lidar Solution, the FL200, in 2016, including one with Ailes Marines in France – a joint venture between Iberdrola, the global energy giant, and RES Offshore – which went live in January.
InnoEnergy, the innovation engine for sustainable energy in Europe, has supported EOLOS since 2015. InnoEnergy has so far invested EUR 2.15 milion in the technology and business, and is committed to providing ongoing access to R&D funding.
Rajai Aghabi, CEO of EOLOS, says, "2015 was the year for technological validation and market awareness; 2016 was the year to penetrate the market and to show we had a competitive value proposition. We have managed to fulfil our goal, exceeding our initial expectations. Our commercial strategy and technical offering – coupled with access to InnoEnergy's pan-European network – has made our success possible."
Like traditional masts, the EOLOS FL200 allows operators to assess the offshore environment with consistent accuracy, but at 10% of the cost.
Antoni Martinez, CTO of Renewable Energies at InnoEnergy and an EOLOS board member, adds, "EOLOS has a strong core team that understands the workings of the wind industry, and the innovation is accurate and cost-effective – a truly rare find!"
EOLOS is expecting further growth in 2017, with demand coming from new regions including Asia and USA and across Europe.
Mr Martinez continues: "We are extremely confident in the company's growth prospects and are looking forward to supporting them in years to come."