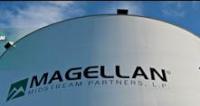 BridgeTex Pipeline Company, LLC, a company owned by Magellan Midstream Partners, L.P. and Occidental Petroleum Corporation, plans to begin the commissioning of the BridgeTex Pipeline in the third quarter of 2014.
Given the significant need for crude oil transportation service from the Permian Basin to the Houston Gulf Coast area and in order to accommodate requests of committed and prospective spot shippers to provide access to available transportation infrastructure as soon as it becomes available, BridgeTex intends to begin limited commercial operations on the pipeline as part of the initial commissioning process.
The company has begun to fill storage tankage at the origin of the system in Colorado City, Texas, and operations to fill the pipeline will begin in the near future.