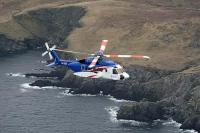 Bristow Helicopters Limited has secured a new contract with Apache North Sea Limited to support its North Sea operations. The contract which has a five year primary term, with further extension options, will commence on 1 September 2017.
Aircraft types provided under the contract will comprise both the Sikorsky S-92 and Leonardo AW189.
Alan Corbett, managing director of Bristow Helicopters, says, "I am immensely proud of our teams for all the hard work that went into securing this work with Apache, especially in this difficult climate. This is our first contract with Apache in the UK, and we are very pleased to have established this relationship with them."
"Bristow has been flying oil and gas passengers out of Aberdeen since 1965 and, as ever, our commitment to our passengers and our clients remains the most important focus for us," adds Corbett.