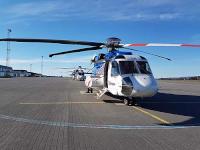 Bristow Norway AS commenced helicopter operations on three new 5-year contracts out of Florø, Norway, on May 1, 2017, supporting Statoil ASA, ENGIE E&P and A/S Norske Shell (previously BG Norge Limited). On the same day, Bristow Norway also commenced a new 5-year contract at its well-established base in Bergen, Norway, supporting Statoil ASA. These contract awards were formally announced in February 2016.
Services at both locations are operated using Sikorsky S-92 aircraft. The S-92 helicopters are equipped with upgraded security systems, such as tail-mounted cameras and improved airborne-data connectivity, in addition to the newest technology within alert and navigation systems. The helicopters also have new technology to support enhanced landing procedures, to help reduce noise over congested areas.
With the new contract in Bergen, Bristow Norway is now providing flights between Bergen and all of Statoil's installations in the area. Bergen is an important centre for the offshore petroleum industry, with a high level of activity.
Florø is a new location for Bristow Norway operations; it is the most western town on the mainland in the Nordic countries and an important commercial hub since the mid-1800s. The ENGIE contract covers helicopter transportation to the Gjøa Semi, while the A/S Norske Shell flights will fly to the Knarr FPSO.
Bristow Norway Area Manager Heidi Wulff Heimark says, "We are proud of our new base at Florø and look forward to developing a good relationship with the local community. The investment in Florø is strategically important as it strengthens our position to operate further north towards central Norway. These new contracts further secure our position in Norway."
"Bristow Norway is grateful for the confidence Statoil has shown the company by entrusting us with the responsibility for an even larger part of Statoil's transport requirements in Bergen. We look forward to further developing our close and long-term relationship with Norway's leading energy company. We are also looking forward to developing our relationships with ENGIE E&P and A/S Norske Shell, which are new customers for Bristow Norway," adds Wulff Heimark.