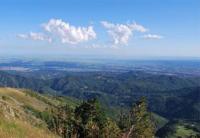 BRS Resources Ltd. says that through its ownership in AleAnna Energy LLC, which owns 100% of AleAnna Resources LLC in Italy, it is strategically positioned to exploit Italy's vast, untapped natural gas reserves.
BRS, which owns 17% of AleAnna Energy LLC, acts as the operating partner for AleAnna in Italy. AleAnna holds nine exploration permits and four permit applications in Italy's Po Valley and Bradano basins, encompassing more than 800,000 acres (3,250 km2). To date AleAnna has acquired 86,000 acres (350 km2) of 3D geophysical data, making it Italy's largest owner of onshore 3D geophysical data in Italy.
AleAnna recently executed surface agreements on three well site locations and is currently negotiating for additional surface locations, as well as with drilling and geophysical surveying contractors, as part of its operational plan to drill three natural gas prospects in the coming year and add significant more 3D geophysical data to its existing portfolio.