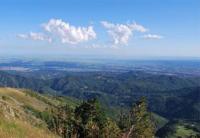 BRS Resources Ltd. announce that Po Valley Energy (PVE) completed well testing of its Gradizza-1 discovery well. PVE drilled and tested the well in September and scheduled additional tests in November.
On November 20, the well tested natural gas at a stabilized rate of 696,000 cubic feet per day with 492 psi flowing tubing pressure on a 1/4-inch choke.
No formation water, pressure decline, or gas impurities were recovered during testing and the bottom-hole pressure measured was approximately 1,200 psi. The well is currently shut-in, waiting on installation of surface facilities, pipeline hookup, and regulatory approvals. BRS holds an interest in the Gradizza well through its membership in AleAnna Resources, LLC.