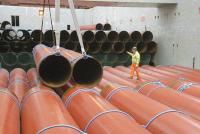 BSR Pipeline Services Ltd, a joint venture between Tata Steel UK Ltd and Ramco Pipeline Services Ltd, is celebrating after winning an International Safety Management Award from the International Safety Quality Environment Management Association (ISQEM), a UK based professional association.
The awards seek to celebrate and promote the success of its entrants in maintaining a safe and healthy working environment for staff and is open to businesses, public and third sector bodies in all industries. Winners are recognised for proactive commitment to drive change, engage employees and improve overall working environment and quality performance.
BSR Pipeline Services was personally commended by Wayne Taylor, president of the ISQEM, for reflecting the importance of high standards of health and safety in the workplace.