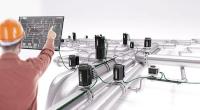 Sounds like a tall order, but that's where the industry is headed. Experts like DNV GL and Rolls Royce concur: Technologies available today will combine with those just around the corner to enable a better class of ship in the very near future. This emerging reality is already allowing owners, and regulators, to demand just such ships.
CEO Arnstein Kjesbu of Eltorque, manufacturer of electric valve actuators, has a clear picture of his company's place on future ships: "The technology we developed for the most demanding markets and the most complex vessels on the water is now being applied to a broader spectrum of shipping. We are ready to take part in the transition to a new era of ships."
While big-ticket items like hull design, power, and propulsion are grabbing most of the headlines, Kjesbu points out that tomorrow's ships will contain a multitude of smaller, specialised items that will work together to meet a new set of demands.
One area where many small developments are already coming together to bring about big change is autonomous shipping, though improved, or even assisted shipping might be more accurate, and more realistic terms.
Such concepts imply more remote and automated operations, and less crew needed to perform the same functions. That in turn places higher demands for reliability and functionality on all essential equipment.
This is where a specialised OEM like Eltorque comes in. Eltorque has been supplying all-electric valve control actuators to fishing and offshore support vessels for decades. Over the years they have honed and refined this critical piece of equipment to include serial connections and a hybrid, CANbus connector cable that not only controls the actuator, but relays information to and from the unit, enabling operators to monitor in-situ status while exercising precision control over the valve.
And since Eltorque actuators are maintenance-free for life, valve control becomes just one less thing to worry about in the bigger, more complex picture. Compact and lightweight as well, they contribute to a lighter vessel with more efficient use of space. Add to that ease of installation due to the efficient hybrid cable, and you have a vital component that delivers on every aspect of the future ship.
Best known in the North Sea for now, Eltorque is reaching out to new geographical markets, and to new segments: "Our advanced technology may not be applicable for everyone. However, segments like cruise, ferries, navy and superyachts have a lot to gain from advanced valve control. These benefits are also leading us over to onshore industries," says Kjesbu.
"We can contribute to an overall more efficient ship by offering improved functionality and reliability. This in turn enables more automation and remote operation. We definitely see our role in contributing to smarter, more efficient and more reliable ships in the future."