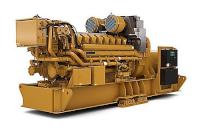 Caterpillar Oil & Gas has introduced its newest C175-16 IMO Tier II Emissions Certified Generator Set. Rated at 2,800 bkW (3,755 bhp)/2,660 ekW @ 1,800 rpm, this new generator set has the ability to meet stringent safety requirements for emergency applications or can be adapted to meet main power or essential offshore requirements.
"What's significant about this product launch is that we're putting out a higher rated power at 1800 rpm and we're doing it with fewer cylinders than what our competitors use for similar density," says Scott Roberts, oil and gas offshore marketing manager for Caterpillar. "Our customers will benefit with less maintenance and lower operating costs due to fewer cylinders, while still getting the new higher rated power."
The new C175-16 generator set features high pressure electronic unit injection to maximise fuel efficiency and performance while maintaining emission standards. It offers a 25° static and dynamic tilt capability to handle the toughest environments.
"When designing this new generator set, we took into account the limited amount of space our customers have on offshore rigs," says Roberts. "The overall size and package weight of this unit will be an added benefit to our customers."