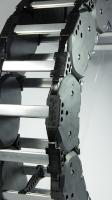 With the new TKHD series, TSUBAKI KABELSCHLEPP has developed extremely robust and stable cable carriers which are particularly suitable for the crane industry and other demanding applications with long travel lengths – for example in the bulk goods area. The sturdy design of the TKHD cable carriers makes them ideal even for use in dirty and rough environmental conditions with a long service life.
"Cable carriers for cranes are one of the main focus areas of TSUBAKI KABELSCHLEPP," Peter Sebastian Pütz, Head of Crane Business at TSUBAKI KABELSCHLEPP, explains. "The TKHD series now adds a real powerhouse to our range in this area – a first on the market." With the encapsulated stroke system, a dirt-resistant outer contour and a reinforced bolt hole connection, the cable carrier meets the highest requirements with regard to robustness. The solid sidebands are highly sturdy thanks to a special double-fork and tab design.
Quiet running is ensured by an integrated brake and integrated noise damping, whereby the latter works continuously in the chain radius as well as in the straight length. The pitch of 90 mm and the polygon-optimized outer contour support the quiet running of the cable carrier. "Plastic cable carriers of this size with a smaller pitch were previously not available in the industry, so we are filling a gap in the market," Peter Sebastian Pütz says.
With an inner height of 87 mm, the width of the TKHD series can be precisely adapted to the available space: Aluminium stays in 1 mm increments make it possible. The vertical inner distribution can also be changed flexibly thanks to fixable dividers. Users also benefit from fast installation: The cable carriers can be quickly opened inwards and outwards for installation of cables and hoses. The TKHD series is designed so it can be used gliding, rolling and also unsupported. If the cable carriers are used gliding, replaceable glide shoes ensure an extended service life of the system.