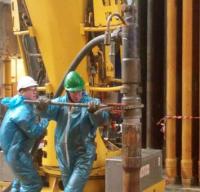 The following operational update relates to Cairn's 2013/14 exploration drilling campaign offshore Morocco where drilling operations commenced in late October 2013.
The FD-1 exploration well is located in 1,500 metres (m) of water approximately 120km offshore Morocco in the Foum Draa block (Cairn 50% Working Interest (WI) and Operator). The primary target of the well was a Late Jurassic/Early Cretaceous deep-water turbidite slope fan and channel complex.
The FD-1 well has reached a Total Depth of 5,255m but has not encountered clastic reservoirs, although it has penetrated the oldest stratigraphic section of any deep water exploration well along the Moroccan margin. Gas shows and gas composition ratios encountered in the well have confirmed an active thermogenic petroleum system. The well is now being plugged and abandoned.