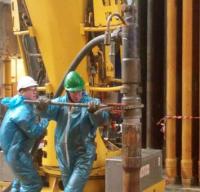 The following operational update relates to Cairn's 2014 exploration drilling campaign on the JM-1 well, offshore Morocco, where operations commenced in January 2014.
The JM-1 well (Cairn Working Interest (WI) 37.5% and Operator) drilled to evaluate Upper Jurassic and Middle Jurassic objectives reached a total depth of 3,711m TVDSS and has been plugged and abandoned without testing.
In the Upper Jurassic section, the well has confirmed the presence of heavy oil over a gross interval of 110 metres as originally tested in the 1968 MO-2 well, some 2km from the JM-1 well.