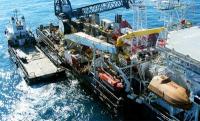 Cal Dive International, Inc. has entered into a Limited Waiver, Agreement and Amendment No. 9 to its first lien credit agreement which maintains the size of the revolving credit facility at $100.0 million through December 1, 2014, and waives the Company's non-compliance with certain financial covenants and payment obligations under the Credit Agreement, as well as the cross defaults resulting from similar defaults under the Company's second lien credit facility, through December 1, 2014.
As amended, the revolving credit facility capacity will step-down from $100.0 million to $90.0 million on December 2, 2014.
The Company also continues to work cooperatively with the lenders under its second lien credit facility and its convertible notes, as well as its suppliers and vendors.