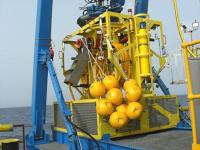 A portable Intervention Work Over Control System (IWOCS) deployment system developed by Caley Ocean Systems, part of the Seanamic Group, has been used to successfully test the manifold functions on four deepwater subsea manifolds post installation.
The Caley IWOCS Deployment System is a self-contained portable skid comprising A-frame, umbilical reeler/power unit and deployment frame. Deployed from a vessel of opportunity, the IWOCS deployment system enabled the subsea in-situ testing and operation of all manifold mounted valves via the manifold subsea control module (SCM).
Overboarded and retrieved using the IWOCS umbilical, the deployment frame provided the subsea interface for the umbilical, hydraulic flying lead and two electrical flying leads supplying electrohydraulic power and communications to each subsea manifold during testing.