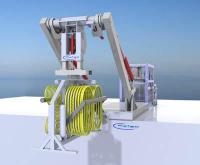 Caley Ocean Systems announces the development of a portable Intervention Work Over Control System (IWOCS) deployment system. In addition to simplifying the over boarding of the IWOCS, it allows a single deployment system to be readily transported between different offshore vessels.
IWOCS are designed to perform testing, control and monitoring functions on a range of subsea equipment including wellheads, manifolds and gas lift modules, for example. With growing subsea field development through tiebacks and longer distance step-outs, there is a need for more IWOCS for flow assurance and scheduled preventative maintenance.
Following Caley's successful development of an Alternative IWOCS (AIWOCS) Deployment System in 2014, the IWOC Deployment System is the second generation of Caley's topside handling equipment specially designed to provide access to wellheads and manifolds for intervention and workover.