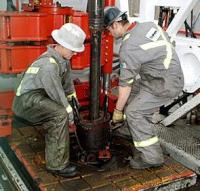 Calmena Energy Services Inc. announces an update on operations and its ongoing strategic process.
Operational Update
Mexico contract drilling is beginning to show signs of recovery. The curtailment of Mexico drilling operations in the second quarter by Pemex resulted in the termination of all of our drilling contracts which has had a material negative impact on Calmena's overall financial performance. Calmena's six Mexican rigs remained idle until early October, when our first rig was re-activated. That curtailment in activity resulted from a budget impasse between Pemex and the Government of Mexico which has since been resolved. Pemex is currently tendering ten large multi-year integrated project management contracts, as part of an aggressive capital program, which we expect will be awarded later in 2013 and should result in increased demand for rigs in the first quarter of 2014. Management expects utilization to improve with these positive market developments. EBITDA from our Mexican contract drilling business was $12.7 million in 2012.
In early October, Calmena received notice from its customer in Libya of its intent to renew the drilling contracts for the Company's two rigs. One rig re-commenced operations in mid-October, and negotiations continue to finalize longer term contractual commitments for both rigs.