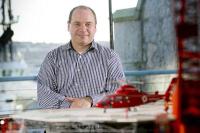 Independent project services consultancy, Cambla, has launched its state of the art technology software, the Schedule Animation Tool (S.A.T).
The company will unveil its ground-breaking technology during Subsea Expo, a major oil and gas event which will take place between 11-13 February 2015 at the Aberdeen Exhibition and Conference Centre. The multi-user software has been developed to meet the needs of businesses operating within the subsea sector, significantly reducing man-hours and offering substantial cost savings.
S.A.T provides an accurate visual representation of a vessel's actual location and planned activities, making it easier to understand Simultaneous Operations (SIMOPs), construction sequences and plan global subsea and marine operations.
Transforming the way that vessel schedules are analysed before, during and after performing subsea operations, the software is capable of identifying occasions when vessels are required to be in close proximity to other vessels or installations. In addition, it can generate a list of relevant SIMOPs or Close Approach Risk Assessments required to be carried out in advance.