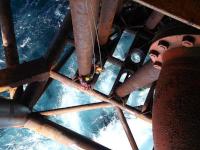 CAN Group has been awarded a £4 million contract to provide asset integrity services in the North Sea as the firm also announces international growth.
The Aberdeen-headquartered company has secured work with Fairfield Energy aboard the Dunlin platform, UK Continental Shelf (UKCS).
The three year contract with Fairfield Energy will be led by ENGTEQ, the group's integrity engineering business stream, that will provide services such as inspection management and data analysis with CAN's operations division providing inspection execution and ancillary services on the pressure systems and structures in support of the asset integrity programme.
In addition to domestic success, CAN has also been successful in securing scopes in North Africa. The work covers the provision of specialist inspection services and integrity engineering support and will see CAN carry out a variety of structural inspection services including flare and jacket structure inspections and a comprehensive range of advanced NDT inspection techniques at pressure plants on and offshore.