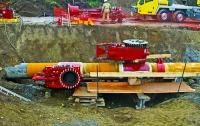 Rerouting a section of a natural gas pipeline is always a complex project. But one of Canada's largest pipeline companies found the endeavor even more challenging when it was mandated to relocate a pipeline in an environmentally and politically sensitive area on a tight timetable.
The section that required relocation is part of the major 30" natural gas corridor that traverses west to east across Canada, delivering energy to one-third of the nation's population. The area around the pipeline was issued a safety class upgrade by the National Energy Board (NEB) when construction of a subdivision began near the pipeline. Because it was determined that the new residences would be too close to the pipeline to comply with safety standards outlined by the Canadian Standards Association, the pipeline operator chose to cut out a 900-foot section of the pipeline and build a new section farther from the new residential development. In order to maintain gas flow to customers, the pipeline was isolated upstream from the construction area and rerouted through a bypass line.
The pipeline relocation project was complicated by the fact that the new section of pipeline would run along the edge of a national park in Quebec and near a Mohawk Nation reservation. Not only did the owner/operator want to minimize any environmental damage to the area, it also sought to treat the area with appropriate respect and avoid any political concerns.