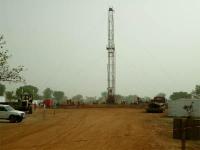 Caracal Energy Inc. announced its first joint-venture oil shipments from the Badila field in Chad.
On June 9, 2013, His Excellency President Idriss Deby Itno held a ceremony to inaugurate the Company's production facilities and flowed first oil into those facilities.
Yesterday, September 30, the Company commenced oil production from the Badila field into its transportation system that connects Badila to the main export line operated by TOTCO/COTCO, referred to as the Export Transportation System ("ETS"). The Company will initially produce oil to fulfill the joint venture's share of the ETS line-fill, which is estimated at just over 450,000 barrels, after which it can accumulate oil for sale. Initial production is coming from the Badila-1 and Badila-2 wells, and additional Badila wells will be tied in for production in coming months as processing capacity is increased.